Guide to Warehouse and Inventory Organization for your Business
By Rackbeat January 24, 2022
Your inventory can quickly become messy, unwieldy and filled with wares that are no longer used or sold. A messy and unwieldy warehouse hinders productivity in everyday operations. That is why inventory and warehouse organization is an important point your business needs to focus on to increase the business' effectivity and competitive edge.
But what are the rules for proper inventory and warehouse organization, and how do you best get started with warehouse optimization? Read along here, and discover how to organize your business' warehouse like a pro.
Rules for  organizing your inventory and warehouse: Rules and safety
The warehouse is a part of the workplace. Therefore, the warehouse shouldn't just be organized, it also needs to be user-friendly for the workers: and it needs to be in compliance with the rules for safe warehouse organization.
In regard to the European standard 15635:2008 there needs to be an inspection of the warehouse at the time of installation, and it needs to be continuously inspected thereafter, at least once a year.
The warehouse needs to be inspected in part to make sure that elements such as poles and load-bearing beams haven't deformed, that the stressed shelves have the correct incline, and that the bolts securing the beams are placed according to regulation.
Always make sure that the person responsible for safety in the warehouse knows the latest guidelines and regulations for warehouse organization.
How to – 4 steps to warehouse and inventory organization
Step 1: Always make sure the warehouse is tidy
You can optimize warehouse organization as much as you want. But if the warehouse isn't tidy, you won't get much bang for your buck. That is why the first step is to dedicate time to tidying up the warehouse.
Do you have wares or other products in the building that aren't used or that have gone out of circulation, it is time to get rid of them. A good rule of thumb is, if you haven't used a product in 12 months, you are not like to use or sell it within the next 12 months. There are a lot of benefits to minimizing your inventory, I.E. more space for new products, less costs and more streamlined workflows.
Step 2: Sort your product range after what you use the most
The consumption of different types of wares will always be varied. Therefore, you can sort your warehouse according to how often you use the wares you use, after you tidy up. You can, for example, arrange your product range in three categories:
Products that are rarely used

Products that are used on a monthly basis

Products that are used on a weekly or daily basis
This arrangement can help you determine how purchasing amounts of the different wares need to be adjusted in the future. Meanwhile, you also have the opportunity to reevaluate the consumption in relation to the products' physical placement and availability in the warehouse.
Step 3: Organize the warehouse properly
After the arranging, organization is the next step. Good organization is built on transparency – that is why the third step is you organizing the warehouse, focusing on creating a transparent and usable system.
In a hectic workday, organizations often takes a step back and that results in an unwieldy and messy warehouse – and that sends you back to step 1. That's why we recommend that after tidying up and arranging the warehouse, that you make sure to organize your warehouse.
Place wares and product groups according to factors like:
The size of the product

How often the product is used

The expiration date of the product
This can also be an opportune moment to color code wares and product groups, for example. You can benefit from making a guide to the different labels – in that way, you won't be reliant on having a warehouse manager with intimate knowledge of the organization present.
The placement of your products is one part of the organization. The other part is a strategic placement of the warehouse's lockers, racks and shelves. The crucial part here is increasing availability in the warehouse, while creating space and flow. That way, you can increase productivity and the service level you can provide to your customers, while reducing resource waste.
Step 4: Automate processes through inventory management
When you've been through the steps above, capitalize on it by creating overview in the everyday operations through keeping the warehouse tidy and organized.
To do this, you can benefit from implementing a warehouse management tool, that can help you keep an overview of the warehouse organization through automation of processes like:
Controlling of purchasing flow and -amounts

Handling of product numbers and barcodes

Doing inventory and keeping track of stock levels

Optimizing product mix

Shipping and receiving of products, and much more
Optimize your inventory and warehouse organization with Rackbeat's newsletter
Do you want to go deeper into the well of inventory and warehouse knowlegde? Then you should sign up to Rackbeat's newsletter!
It will provide you with the latest, greatest and must updated content news and guidelines for everything to do with inventory, warehouse, supply chain management, webshop-providers, integrations and much, much more. This content will surely help you improve your business, inventory and warehouse even more.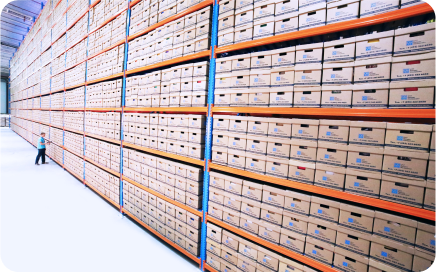 What is a Warehouse Management System - and Why is it Important?