Once Upon a Time… There was busy bustling by the boards
Our story begins 10 years ago in a little toolhouse in Gilleleje, Zealand, where Ole Løvhøj founded Miniservietten. From these humble beginnings, his car chugged along the roads and delivered napkins, candy and office supplies to happy customers. However, he quickly had to put the pedal to the metal once he started selling packaging and wrapping to the restaurant and production industry. Ole then realized that he had to buy himself a larger space to store all of his products if he wanted to keep track of the growing demand.
Heroes in fairy tales usually start at the bottom, and our protagonists also had a steep mountain to climb when it came to their warehouse management. Ole's son, Jonas Løvhøj, recalls how the administration of the warehouse felt rather "old school" as they had to arrange their purchases, orders and shipments manually on a board:
"We all stared at a big old whiteboard. And on this whiteboard we put Monday, Tuesday, Wednesday etc. and wrote out order confirmations for each day. Nobody really had a firm grip on orders and product availability. It was like "oh well, we just received this order" – without anybody knowing if it was in stock or not."
Thus, the whiteboard management was a source of tremendous confusion and the warehouse conditions felt so chaotic that Jonas finally "had reached the point where we seriously needed a solution to our warehouse problems – and it had to be found quickly."
Unfortunately, the search for a warehouse management system was a little too rushed.
Endless Expenses and a Total Waste of Time
When you speed ahead with blinders on you risk hitting a dead end. Similarly, the warehouse management system which Miniservietten initially chose led them nowhere while causing them a myriad of headaches. Jonas describes their choice of warehouse management system as "the worst decision the company ever made." The decision, which cost them "a quarter million Danish kroner" and "800.000 kroner in revenue," was an expensive lesson to learn. The bitter taste of money wasted was even more rancid as Miniservietten also spend a ton of time getting the system to operate properly:
"Our warehouse system back then could not give us the correct information in terms of which products were at our disposal in the storage. Nothing ran automatically."
So how do you come back from such a disastrous ordeal that has caused, what seems like, a financial fiasco with a ton of time totalled? At the darkest hour Miniservietten decided to look ahead rather than dwell in the past. And from this vantage point they suddenly spotted Rackbeat who was ready to the rescue.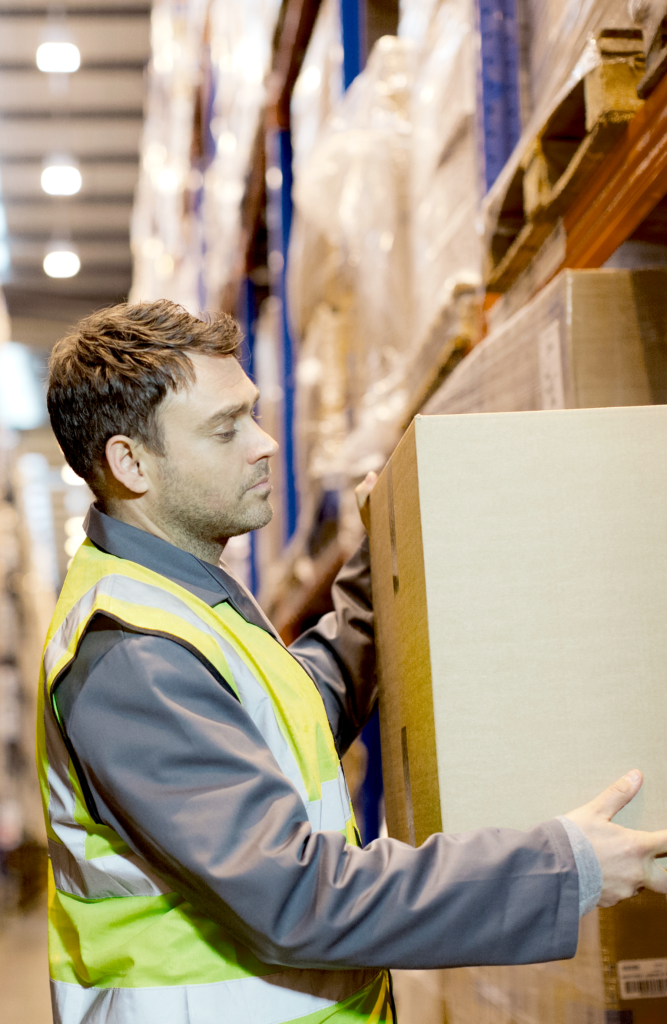 Rackbeat to the Rescue
The pathway to Rackbeat was, understandably so, filled with a bit of hesitancy for Miniservietten. Because if you burn your hand on the stove, you don't put your entire head in the oven afterwards. So the decision to try out a new warehouse management system was not an easy one to make:
"Do we continue to suffer the losses? Or do we try to see if we can get out of this mess. We reached the conclusion that we had to try something new. And that's where you got into the mix."
What helped Ole and Jonas take the leap and try Rackbeat's warehouse management solution was both positive reviews and great customer service. When Jonas called Rackbeat he felt that Miniservietten was taken care of from the very first conversation as they talked about "everything from A to Z." This assured him that Rackbeat's system could adapt to Miniservietten's needs.
From that point on, the entire operation has been run painlessly. Jonas namely experienced an "onboarding which was brilliant" and "from the very first day the system was set up for us it has worked flawlessly." Finally, Miniservietten could once and for all turn their backs to the whiteboard and the endless expenses as their warehouse management started to flow effortlessly in Rackbeat's digital system:
"There's plenty of stuff we don't have to do manually now. Booking a shipment – that is so automatic. And the picking and packing stuff – that's so easy on the phone. So this process of picking, packing and shooting an order out the door – that's a breeze now, ain't it? We are saving sooo much time, it's insane!"
Miniservietten thus found the coordinates to the path out of the stormy weather, which swallowed both time and money, once they boarded the Rackbeat ship. After Rackbeat helped them ashore, their pockets have been filled with a whole lot of energy and capital which means that they dare dream big. Jonas states that they are even looking to scale their business:
"We have saved a lot of money on warehouse management. The former warehouse system providers could not help us grow, but Rackbeat can."
Miniservietten will also soon be registered as an ApS-company in which Jonas will be a co-owner, while they are looking to "shoot up the revenue numbers by 2,5 million Danish kroner." As a consequence, once Miniservietten found the right warehouse management tool, they turned the tides and stopped pushing profits into a porous pool and wasting endless man-hours in front of a whiteboard. With a brighter view in their scope, you can really say that Miniservietten went from wasting time on a whiteboard to a technological triumph.
Do You Want to Save Time, Money and Order Headaches too? Book a Free Rackbeat Presentation
If you, like Miniservietten, want to get rid of time waste as well as slow and unpredictable order, purchasing and sales processes, then we have just the remedy you're looking for.
You can namely book one of our most prominent inventory experts who will show you the Rackbeat-ropes – solely based on your business needs and set-up.