Online Inventory Management: Why Is Inventory Management Important for Webshops?
By Rackbeat August 26, 2022
As a webshop owner, the road to success is paved with obstacles. It is more difficult than ever to differentiate oneself from competitors and it takes both time and resources to build an online presence. The multitude of options available for consumers has reached unprecedented levels. As a consequence, most companies choose to focus on marketing, refining their product offering and branding – all of which are important. However, the importance of optimizing product- and inventory management is often overlooked, especially in a busy work environment. In the busyness, it is often overlooked how a smart inventory management system can free up both time and money.
Therefore, we will explain why smart inventory management is important and desirable if you want more time to focus on your core business. Ideally, you should wake up in the morning and think about, how to attract and retain customers – not whether the supply chain is under control.
Use inventory management to stand out from the competition
You have worked hard to get relevant consumer traffic to your webshop. It is a shame if you lose them, or they abandon their cart, due to a lack of inventory control. A well-functioning inventory management solution can determine the difference between a good and bad customer experience. Also, it can determine your company's reputation and whether or not you get positive word-of-mouth, both offline and online.
ECommerce customers typically generate the latter. There is a world of difference between "not in stock" before a customer clicks "buy" and "not in stock" after a customer clicks "buy". After the transaction is done and the customer has clicked "check-out" or "buy", they only expect one thing: to receive the purchased goods as soon as possible.
With a digital inventory management system (IMS or WMS – Inventory – or Warehouse Management System) you can be confident in what you display for sale on your webshop is in fact what you have in stock, which is fundamental in offering a frictionless purchase experience. Furthermore, you avoid losing customers to competitors and increase your chances for referrals and loyal repeat customers. 
Additionally, inventory – and warehouse management systems provide you with real-time data on what items sell best. Other important insights you gain include data that optimize your product mix, re-ordering best-selling products -at the right time, seasonal sales predictions and much more. Summing up WMS and IMS allows you to deliver the right product at that right time, which is an important component in your marketing mix.
The advantages of WMS and IMS
There is a multitude of short- and long-term advantages of a well-functioning flow of goods. Besides not having to worry about back orders, you can enjoy the following benefits:
Reduction of human errors (including calculation – and typing errors)

Better supplier relations 

Increased employee satisfaction

Less tied-up stock capital

No unpleasant surprises during year-end accounting

Avoid paying for goods you have never received

Instant and real-time insight into inventory value(s)
What you should consider before choosing WMS and IMS
Generally, it is not uncommon that just the decision to implement a new way to manage inventory takes 15 weeks. The long time frame is understandable: Learning to use a completely new system can appear overwhelming. Therefore you must be aware of the following when choosing a system:
Is it flexible enough so you can down – and upgrade according to your evolving needs?

How easy is it to integrate with your existing systems, e.g. webshop platform, financial management system etc.?

Is it intuitive and user-friendly so that every one relevant will use it as intended?

Do the investment and commitment align with overall corporate objectives?
Get started with simple inventory management – sign-up for one of our upcoming webinars.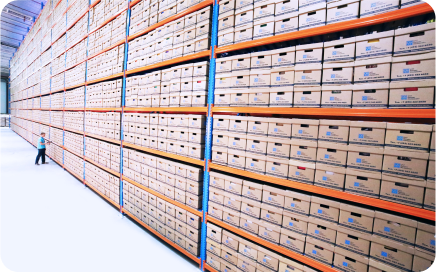 What is a Warehouse Management System - and Why is it Important?