Warehouse Mangement for 24SevenOffice
The benefits you get:
Use product management features

Inventory value

Control multiple locations

Access to detailed purchasing module

Optimize inventory
24SevenOffice can be directly integrated with Rackbeat WMS and keep your inventory updated in real-time.
This integration is brought to you by Rackbeat.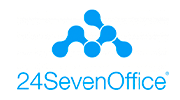 What is 24SevenOffice
24SevenOffice is a cloud-based accounting and bookkeeping system. A complete ERP, MRP and AI-based accounting platform.
Automatising +50% of manual work

Systematising workflows

Save time with AI assistance

Structure and automate tedious and repetitive tasks
24SevenOffice's web-based Finance and Accounting software has everything you need, fully integrated into one complete system. The system deals with all formats for incoming and outgoing receipts, Cash or Accrual based accounting.
You can read more about 24SevenOffice here
Back to integrations